SERVICES
---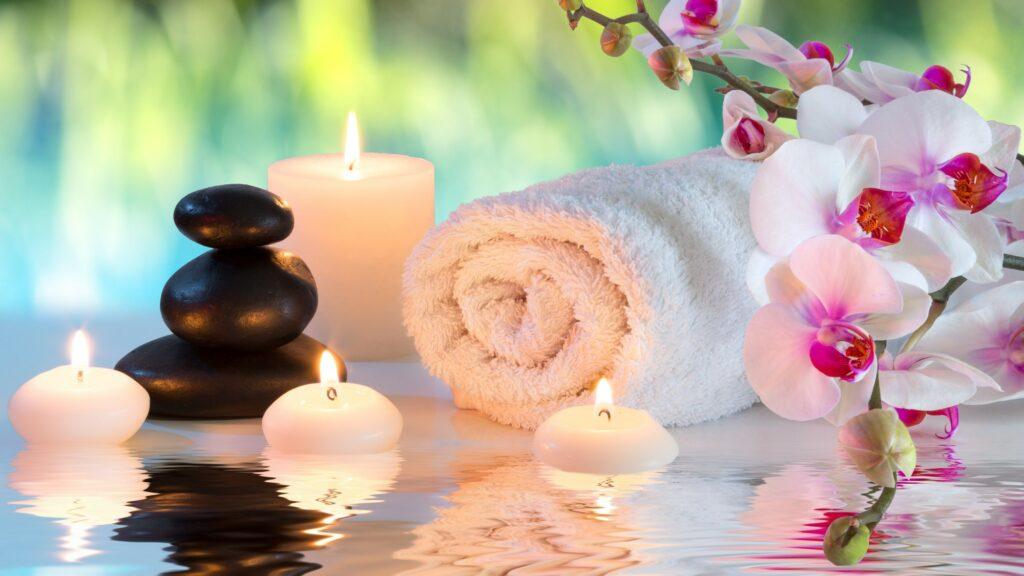 To schedule your appointment, call or text Donna at 216-339-3401.  We see texts first.
"One stroke with a warmed basalt stone is equal to 10 strokes with just the human hand".  That is how powerful it is to enhance a massage session with hot stone therapy.  Not only that, but we never SIT the stones on our clients (like you see in pictures).  Instead, we work with the stones and even do some of the deeper work with the stones which results in a more enjoyable massage therapy session.
FOR PAIN AND STRESS
90 MINUTES OF PURE HEAVEN – The Ultimate in Relaxation! If you are super stressed, this session will be a taste of heaven on earth. It is deeply relaxing and therapeutic and incorporates our hot stone foot massage. Soothing warmed stones are used to ENHANCE your session to help melt away muscle tension and take relaxation to a whole new level. Deep tissue techniques are used in areas of pain or discomfort. The hot stone therapy and foot massage easily makes this the most relaxing session available in the Cleveland area.
STRESSBUSTER DELUXE AROMATHERAPY THERAPEUTIC MASSAGE – (Targets specific areas with deep work) Things like long hours at work, dealing with demanding bosses, conflicts with spouses, financial challenges, taking care of children and managing a home (and the list goes on) put increasing demands on your time, etc. and can take an often silent toll on our health and well-being and can result in extreme levels of unresolved stress.  Over 80% of disease has its roots in this type of stress. This  session is powerful yet soothing and TARGETS the neck/shoulders, lower back, and feet with deep tissue and hot stone therapy, skillfully mixed with relaxation massage to ease away areas of tension, discomfort or pain. Warmed stones are also used on the feet to open up blocked energy in the body resulting in a renewed level of energy in the days following your session. You will emerge rejuvenated, calm, centered and refreshed.  
TRAVELER'S DELIGHT THERAPEUTIC MASSAGE – Meetings, seminars, cramped planes, driving for too long, classes, jet lag, sleeping on hotel beds, etc. all take a toll on the body. Many of our clients are from out of town so we have developed a massage therapy session just for them. This session targets the neck/shoulders, lower back/hips, and legs with hot stone therapy, deep tissue (more than other sessions), a special blend of aromatherapy in the massage cream and a luxurious foot massage. Emerge feeling rejuvenated and brand new! [This is the session we used to offer for hotel massage to the high-end hotels in the Cleveland, Ohio area.]
Last Minute Emergency Spot Treatment – This is a last minute session and includes work on 1-2 areas of the body to reduce pain or discomfort.  It includes the use of hot stones, deep tissue, and Swedish massage.  
FOR STRESS
HEAVENLY RELAXATION MASSAGE – Enjoy a full hour massage that is deeply relaxing, soothing, and emerge feeling brand new!  The session features long, flowing, soothing strokes designed to fully de-stress you and warmed stones and our Heavenly Foot Massage take relaxation to a whole new level. Includes GENTLE deep tissue work as needed.  The extra large, heavy stones used on the back make our clients purr with delight so don't miss out on this wonderful treat.
SPORTS MASSAGE
Sports Bomb – This session is MOSTLY deep tissue, but includes hot stone therapy for accelerated muscle recovery.   This session is not appropriate for immediately after a marathon or immediately before. 
Heavenly Sport – This session is designed mostly to flush muscles with needed blood and nutrients, speed up recovery, increase circulation, help flush out lactic acid, and help your body to recover from things like marathons and half marathons, Cross Fit and other intense types of exercise and sporting events.  It includes much more hot stone therapy, Swedish massage, deep tissue in areas where it is needed, and an incredible deep tissue foot massage. 
PRENATAL MASSAGE
Mom's Serenity Prenatal Massage – Today's Moms are expected to manage the family, work outside the home, raise the kids, be a support to her partner, and excel at her career and sometimes this means they have very little time for themselves. Add pregnancy to this mix and you have some real stress. This session is designed by a mom and was created to provide some serious pampering AND pain relief. The session is super relaxing, done at a slower pace, and helps to relieve areas of tension, pain, or discomfort. Healing, warmed stones are used for the neck/shoulders, feet, and back to help our ladies to feel their very best during this special time. 
Baby Moon Pregnancy Massage – (Can be booked within a week of your due date).  No time to get away for a formal baby moon before your little one arrives? Treat yourself to an extended luxurious relaxation massage session featuring a warm stone foot massage, aromatherapy designed to evoke a state of deep relaxation, and more extensive warmed basalt stones to take relaxation and pain relief to a whole new level.  
To set your appointment, call or text Donna at 216-339-3401.  We see texts first.  We offer weekday afternoon and evening times and some weekend appointments.  However, you MUST schedule ahead to be sure to get in.